Infinite Blue - Demo Is Here!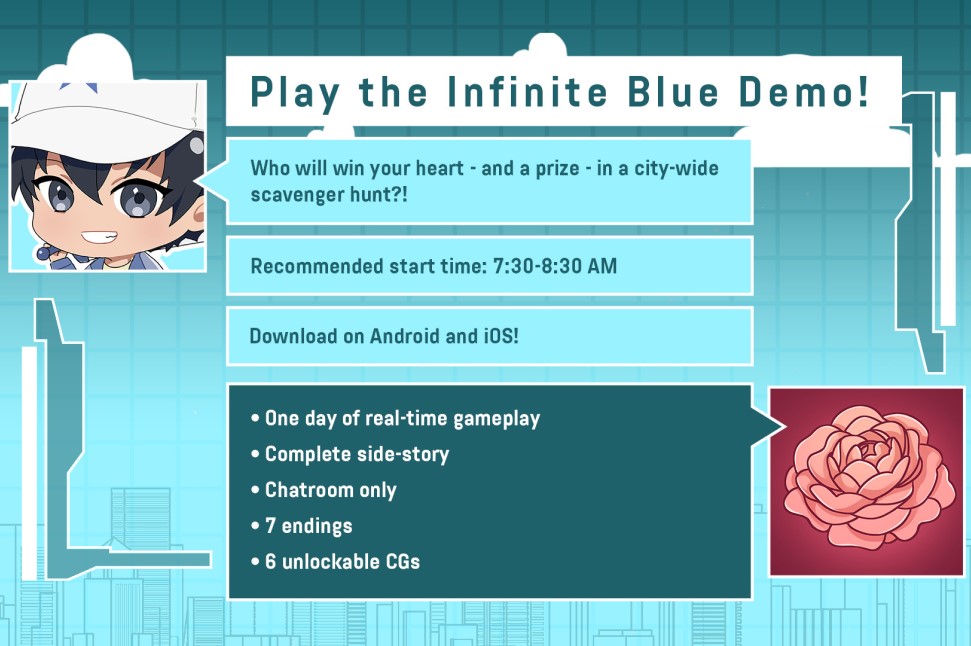 Infinite Blue: Scavenger Hunt - demo out now!
The demo for Infinite Blue is now available for Android and iOS!! In Infinite Blue: Scavenger Hunt, you will be introduced to and get to know the characters for the first time and try out the messenger system for one day of real-time gameplay as the boys try to win you a prize in a city-wide scavenger hunt!
Play on Android HERE
Play on iOS HERE
STORY
You and the boys have already been talking and are familiar with one another, but have yet to meet in person. On a whim, they decide to compete in a city-wide scavenger hunt in order to win your heart - and a prize! They will keep you updated on their progress on the hunt via the messenger, figure out different clues, and compete to be the first one to win you a gift. Your choices in the chatroom will give the boys a boost and determine who makes it to the finish line first!
GAMEPLAY
Real-Time Chats: The game will sync with your time zone, and the first chat will appear at 7:30AM. Subsequent chats will appear until the last chat at 9:30PM/21:30. If you miss any chats, they will be put into a queue for you to play through until you're caught up. There is no penalty for missing chats - you can play them on your own time! If you open the game after 9:30PM/21:30, all of the chats will be available for you to play through.
Group/Private Chats: There are two types of chats – group and private. Your answer in the group chat will determine different private chats that become available. If there is ever more than one private chat open (signaled by a green dot), you will only be able to choose ONE private chat to play. This was done to help determine your ending, and to add replay value for new playthroughs.
Endings: There are 7 possible endings in the demo (6 character endings and 1 neutral ending), with 6 different CGs. Endings are mostly determined by which private chats have been unlocked.
FEATURES
One day of real-time gameplay

Complete side-story

Chatroom-only gameplay

7 different endings

6 unlockable CGs

Choose your own name

No pronouns used (you do not have to identify as female to play!)



In-Game/Real Weather: Although it's not featured as much in the demo, weather plays a big role in Infinite Blue. We have the option for you to use in-game weather to appear as a little UI feature on a couple of the screens, or even allow the game to pull a real weather forecast based on your location. You can also switch between Fahrenheit and Celsius.

Timeline: There is a timeline feature that shows you all of the chats that have popped up, who they were with, and what time the next chat occurs. This will later double as a history section in the main game.

Choice indicators: Colored raindrops indicate which character liked an answer you gave. This can be turned off in the settings.

Voice Acting: Although the demo is chat-only, we were able to sneak in a little bit of voice acting! After each new group chat, you'll find some inner thoughts of the characters on the app screen.
TIPS
If you want to play through the game in one sitting, wait until after 9:30PM/21:30. You'll be able to do a playthrough any time (even in subsequent days) as well.


Tap the voice icons to hear more thoughts from the characters.


After you complete one playthrough, you will have a settings option available to turn on color-coded choices. This means that when you're presented with different answers, you'll be able to easily tell which answer corresponds to which character. This is helpful for if there's a certain character ending you'd like to achieve.


Choices in private chats don't matter in the demo - you can respond to the boys however you like!


WHY A SIDE STORY?
Because Infinite Blue plays out in real-time, the gameplay takes a little more time and energy than other visual novels. It didn't make sense to have the demo be a cross-section of the main game, only to have the story be cut off and make the player have to replay that section again once the main game was released.
Instead, I chose to do a side story that introduces you to the boys, has a complete storyline with multiple endings, and only hints at things to come for the main game. I decided to keep the story fun and lighthearted, so you could play without fear of bad endings and just enjoy chatting with and getting to know the characters.
HOW WILL THIS BE DIFFERENT FROM THE MAIN GAME?
Different storyline


The main game will have voiced phone calls and potentially partial voice acting for visual-novel-mode scenes


There will be an upgraded UI and currency system in the main game


Extra features will be added to the messenger system, such as stickers and fancier chat bubbles


The group/private chat system will carry over to the common route of the main game, but once you're actually on a character's route, there won't be branching private chats like in the demo.


You will have additional customization options - choosing your pronouns, and the ability to choose a profile picture, in the main game.


SPECIAL THANKS TO
Shawna for bringing so much thought and expertise to the demo. Without you, this game wouldn't be nearly as polished nor have all of the features it has. Thank you for working to get it on iOS. Your programming is top tier.


Faefield Productions for your amazing music, knowledge, and help with all things audio and voice.


Vaniraa for the beautiful CGs and profile pictures, stunning key art, and creating the most perfect character designs.


Tsukkiusa for wonderfully dynamic sprites, side character design, and the cutest chibi artwork.


Khoai for your polished UI and graphics, and for your patience dealing with me trying to figure out the GUI. You're the best!


All of the VAs for bringing the characters to life – can't wait to work with all of you more for the main game!


Madison for your enthusiasm and spot-on ideas for the characters.


AND TO THE PLAYERS...
Thank you so much for supporting Infinite Blue up until this point, it really means a lot! I hope you have fun playing the demo and stick around until the release of the main game. There is so much more to come❤️
Have fun - the boys are waiting for you!
-Anna at Velvet Fox Games